MOZAIC GAMES
Regular price
Rs. 2,000.00
Regular price
Rs. 2,499.00
Sale price
Rs. 2,000.00
Unit price
per
Sale
Sold out
Follow our Gamefound crowdfunding campaign using the link below:
Game by Sidhant Chand | Art by Aditi Desai
Game Overview:
Chai Garam -
A local Indian vendor's call, meaning 'hot tea'!
Welcome to a bustling mela* in India.
As owners of a tapri* in the heart of the mela, you will be challenged to serve queues filled with everyone from the most discerning tea enthusiasts to celebs, to quick-fix tea drinkers. Your shop will compete with the other tapris in the mela to win the hearts of the crowd.
*Tapri - P
ronounced 'tup-ree', the colloquial word for a tea stall in India
*Mela - P
ronounced 'may-lah', meaning a "fair" in Hindi
Fortunately, you have a few tricks up your sleeve. Your traditional tea recipes and extensive menu are your biggest assets.
Brew the perfect chai , serve as quickly as you can, rake in the moolah, and leave behind a great impression on your customers. Every serving takes you further up the ladder and closer to making your tapri a grand success.
After all, tea is more than just what's in the cup. In India, it's a whole emotion!
Welcome to Chai Garam. Where everyone is a master brewer!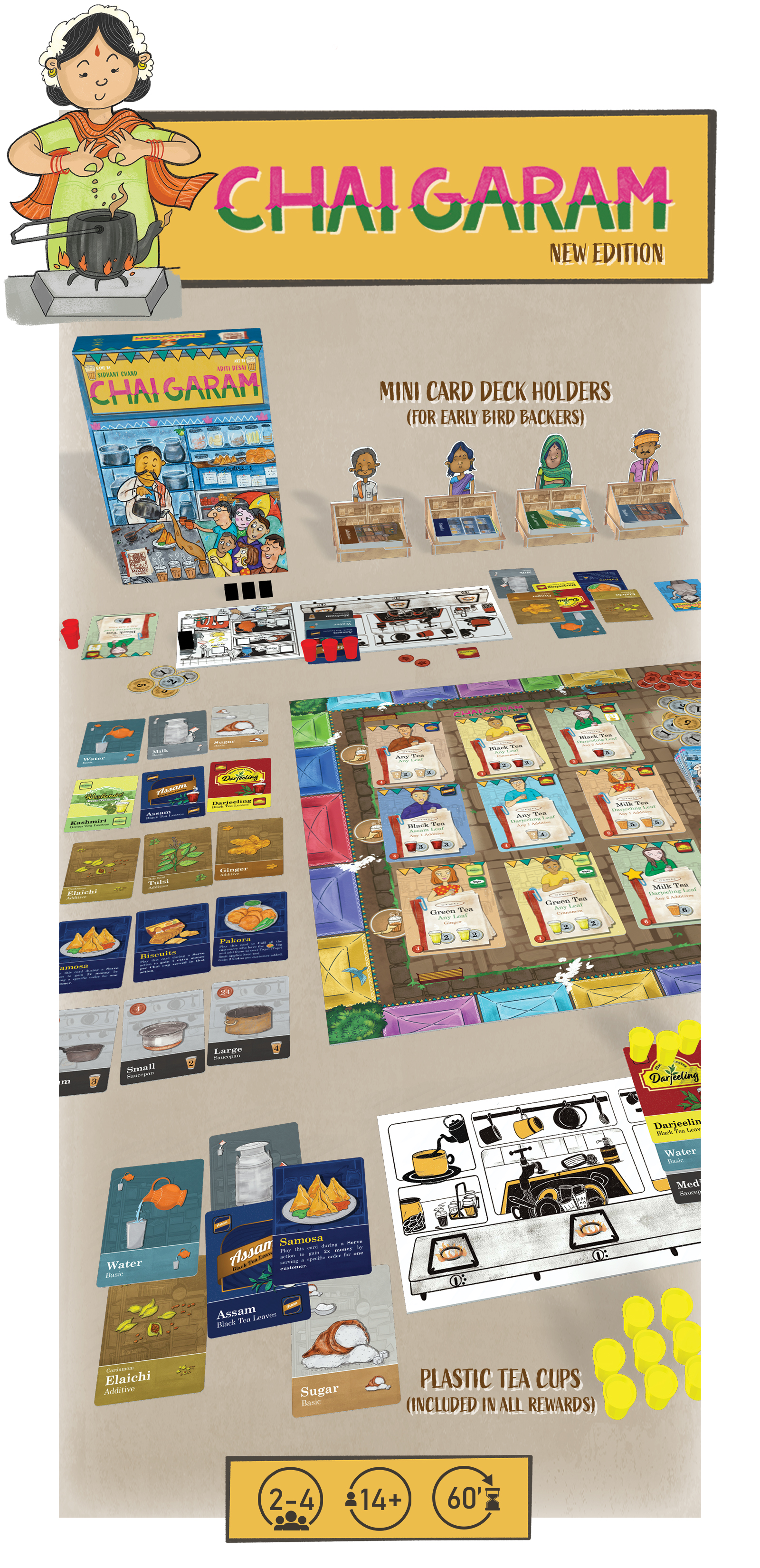 Game Play:
Featured:
 Click here to view the game on Board Game Geek
Share
View full details